This post may contain affiliate links.  Please see disclosure policy for more information.
So since I am in the process of revamping my house style into farmhouse/rustic decor, I HAD to have a wooden sign!  No farmhouse or rustic environment is complete without one.  The only problem was, I REALLY didn't want to spend upwards of $30.00 just to get a custom sign made.
Ever since my first DIY project was complete, I am always on the lookout for odd pieces of wood, scrap metal, old lamps; anything that I can make my next project.  My poor husband knows somethings brewing when I'm scrolling through my phone too long without saying anything, and I suddenly blurt out…I have a new project!!!  About two weeks ago, as I was making my way to my garage to do laundry, I saw a few scrap pieces of wood just sitting against a wall.  The first thing I did was call my husband at work and told him that whatever plans he had for the scrap wood in the garage were over.  His response…"Oh, man what now"?   Think he may be getting tired of my endless ideas?…Well that's just too bad!!!
I did some serious research on the easiest, cheapest, and fastest way to make my own personalized sign.  I used a combination of ideas I found by doing a search, and found what was the best idea for me personally.  First, I needed to chose my scrap piece of wood.  It's important to consider exactly what your phrase will be, and how large you would like your letter to be.  (Check the end of the post to see a complete list of all the materials needed).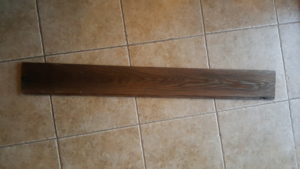 I know that since my last name is Jackson, I would need a fairly long piece of wood.  i also wanted larger letters, so the width of the board was important as well.  The wood I chose was 5 1/2 inches by 42 inches.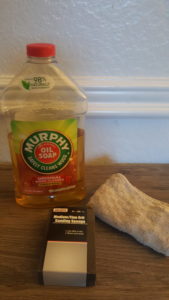 You'll want to clean your wood with a cloth, and you will probably want/need to sand it as well.
Before I get to the actual application of the letters, it's important to figure out what style and size letters you want.  I wanted my sign to completely fill my wood piece, so I chose Monica Corsiva font in size 250.  I used a word document to create the letters, and printed them on cardstock, so they would be durable.  I personally wanted the letters to be stencils, so printing them on cardstock was the obvious choice.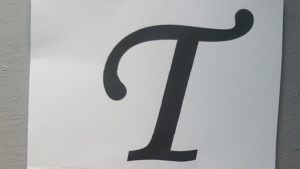 Since I wanted to use the letters as stencils, I cut out each letter with child sized scissors.  You could probably use and X-Acto knife, but I am comfortable and used to cutting with child sized scissors, and I had some available, so that's what I used! 🙂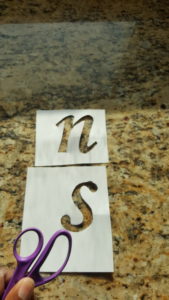 I then began to prep the wood.  First, I cleaned the wood using a wet cloth and Murphy's Oil Soap.  If you don't have Murphy's Oil Soap, warm water and soap should do the trick.  I let it dry for about thirty minutes.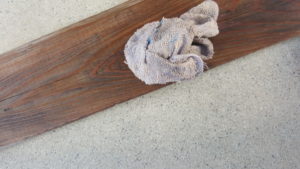 After letting it dry for thirty minutes, I sanded the wood with a sand block.  I sanded the sides and edges as well, just enough to make sure my painting surface was smooth for the application of the paint.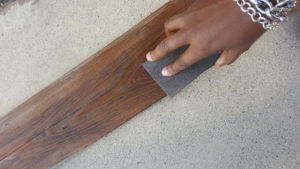 Now, for the application of the letters!  I placed each letter where I wanted them on the wood, and then I taped each letter together using box tape.  After taping each letter together, I then taped the entire stencil to the wood.
Time for the paint!  There was no way I could use a paint brush and paint for this project, so I was so happy I found these AMAZING Sharpie paint pens from The Home Depot, which made it so easy for me to stay within the stencil lines. These paint pens made the application so easy!  I initially applied one coat of the paint from the pens.  It was very easy, just like coloring…and I love coloring!
The applied two coats to each letter before moving on to the next letter.  I noticed that the wood soaked up the paint, so depending on what type of wood you use, adjust accordingly.  I ended up applying five coats of paint to each letter to get the desired look.  Again, depending on how you want your sign to look, you can either apply more or less coats of paint.  I only used one paint pen to make this sign, and it still has paint in it!  Score!!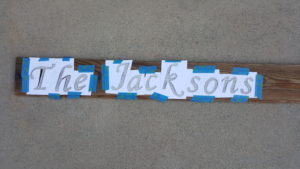 I then removed the stencils, and my sign was done!  I wrote the "est. 1998" by freehand to complete my sign.  That's when we got married, and I LOVE how it turned out!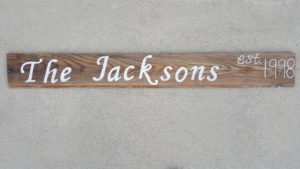 This was really very easy and didn't take long at all.  I am definitely going to be making another sign, and will hopefully get better and quicker at making them.
Want to make your own namesake sign?
Here is the list of materials and supplies needed to complete this project:
-scrap wood
–Murphy's Oil Soap (optional) soap and water should work
-sand block
-stencils (bought or make your own)
–X-Acto knife or child sized scissors
Obviously you can custom this project in any way you'd like.  I have always wanted a name sign, so this was the perfect project for what I wanted.
Looking for more of my DIY projects?  Check them out here. I'm just getting started with the Momtessorian Makeovers, and I hope you'll stick around to see what I have up next!
Happy makeovers!
Anitra