So in addition to my teaching, I occasionally dabble in DIY projects around my house.  In the past, I have stained my master bathroom cabinets, chalk painted my hallway cabinets, and most recently, helped my husband make a reclaimed wood headboard using the old fence from our front yard.  Since starting my blog I've posted pictures of my makeovers, and have gotten great feedback form people telling me that I should post more of my projects…so here it is, the start of Momtessorian makeovers!
Here are a few of my other projects…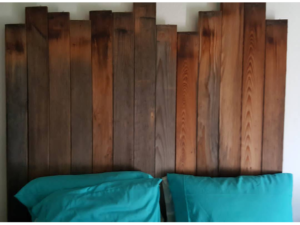 Reclaimed wood fence headbaord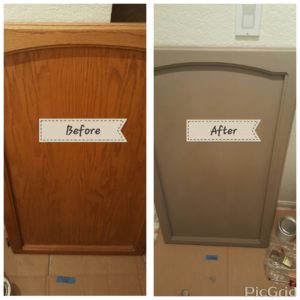 Hallway cabinets painted with chalk paint
I must give you a little background information on why I started doing DIY projects to begin with.  I am in the process of making over my entire house.  We have pulled up all the carpet, and are slowly moving from a modern style to a more farmhouse inspired style.  With that comes a revamping of furniture as well as a desire to make and create our own pieces.  We both enjoy doing DIY projects, so it just seemed like the most logical of ways to get the desired look we wanted that was unique and tailored to our tastes.
I personally didn't want to or have the budget to go out and buy many of the farmhouse inspired furniture pieces we needed.  So I chose the next best thing…look for used pieces and transform them into my dream furniture decor pieces!  My husband and I are HUGE users and fans of Craigslist, OfferUp, and Facebook Marketplace.  We used to use Crigslist religiously, but most recently have been more successful finding items on OfferUp and Facebook Marketplace.  I actually found the dresser in this post for FREE on Facebook Marketplace…and absolute score!!!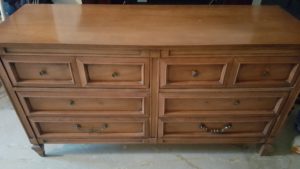 I needed to be able to make this dresser look amazing for cheap and get it done quickly.  The easiest and quickest way I have found to makeover something and make it look great is to use Annie Sloan Chalk Paints.  There are other chalk paints available from many different companies, but I love the ease and durability of Annie Sloan Chalk Paints.  You can find shops that carry the products here. They have a great selection of colors and you do not have to prep the surface of the project. That's right; no sanding!!! I just wiped off the dresser with a wet cloth before I began painting.
First, I removed the knobs and handles.
Then I removed the shelf liner from each drawer.
You'll need a paintbrush and gloves, and follow the directions on the paint can.  I chose Paris Grey for the dresser.  I used a wet cloth and wiped off the dresser before I began.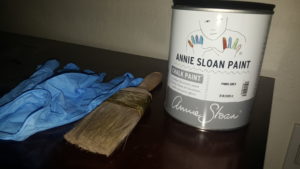 I applied one coat of Annie Sloan Chalk Paint in Paris Grey to the dresser and drawers. Depending on your project piece, you may want to apply two to three coats overall to get your desired look.
Next up, time to choose knobs or handles.  I chose these from The Home Depot. I got the ten pack and also needed 2 more knobs since I needed 12 in total. I wanted a simple knob, and decided to not use handles at all.  Depending on how you want your finished piece to look will determine what style knob and/or handles to choose.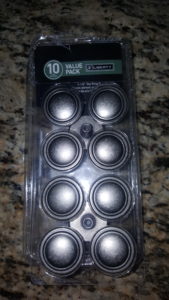 Next step is to add Annie Sloan Clear Chalk Paint Wax and knobs.  Follow the directions on the can of wax.  It is easy to apply and dries quickly.  I used an old t-shirt to apply the wax.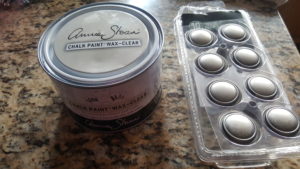 My completed dresser took one weekend, and I spent under $60 for paint and knobs.  I already had the wax from another chalk paint project.  I ended up putting three coats of chalk paint on the dresser and drawers and one coat of wax.  Since it was a used dresser, I cleaned out each drawer using a mixture of warm water and Murphy Oil Soap.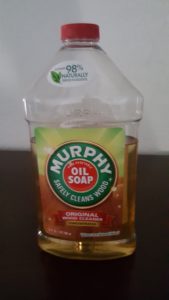 Here is the before and after comparison!  I am so excited (and proud) of how it turned out!  It matches nicely with my teal and grey bedding, and the farmhouse inspired look I am going for.  Time to find another project…it's so addicting once you get started!!
I hope I have inspired you to become a DIYer!  I have so much fun doing these projects!
Anitra
Save
Save
Save
Save