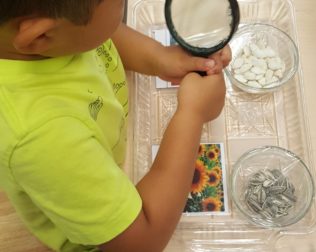 This post may contain affiliate links.  Please see the disclosure policy for more information.
Science is an everyday part of our lives.  It is all around us, and it is important for young children to be given the opportunity to explore, test, and experiment with science.  When considering implementing science experiments into a preschool classroom, there are many things to consider.  Is it safe? Is there a way to get the children's involvement? What are age appropriate experiments? It is important to consider the age of the children, their developmental levels, and their ability to follow directions and listen to instructions.  Early preparation and planning is a key factor in how successful implementing science experiments into a preschool classroom will be.  Depending on the ages and developmental levels of each of the young children in your classroom, that will determine how simple or complex each of the experiments are.  Examples could include simple machines, color mixing, making sugar crystals, and volcano making. I have compiled a list of science experiments that are age and developmentally appropriate; and were successful in their implementation.
5 science experiments for young children
1. Cleaning pennies
Materials:
pennies, salt, vinegar, water, towels
Procedure:
Children can put a spoonful of salt into the a bowl of vinegar and then mix well.  They then place in the pennies. Wait for about 15 seconds, take out pennies and set in bowl of water. Dry off  the "clean" pennies.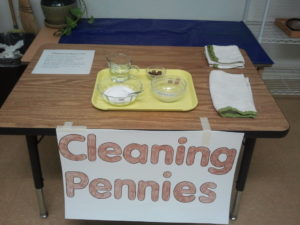 2.  Vortex
Materials:
2 empty 2 liter soda bottles, electrical tape, water, food coloring
Set-up:
Fill one of the 2 liter bottles with water and about 4 drops of food coloring.  Using the electrical tape, and tape the second 2 liter bottle to the top.
Procedure:
The children will learn how a vortex works by turning the apparatus upside down and twirling it around in their hands.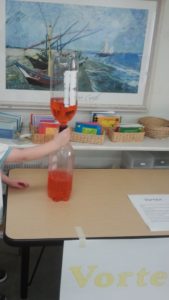 3. Static
Materials:
Balloons, rice cereal, tray
Procedure:

Using already blown up balloons, have the children rub the balloon onto a tray of rice cereal.  Then have  them see how the static electricity on the balloon to reacts.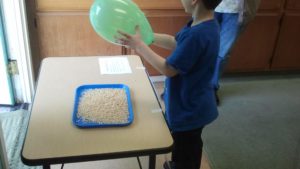 4. Color absorption
Materials:
Clear cups, food coloring, water, white carnations
Procedure:
Have a cup for each flower and add water to each.  Put about 4 to 6  drops of food coloring in each cups.  Within a few hours, you will begin to see the color absorb through the stem of the flower and onto the petals.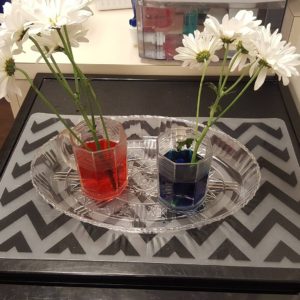 5. Slime
Materials:
Elmer's school glue, washable paint, and Liquid starch
Procedure:
Mix equal parts school glue, liquid starch, and about 2 ounces of washable paint. Mix well. Let sit for about an hour.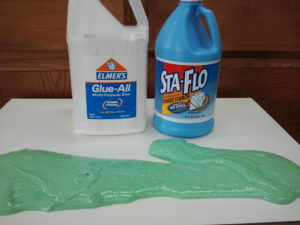 Each of these science experiments were fun, easy, and encouraged the children to use their problem solving, observation, and abstract thinking skills. Use these activities as a way of a first introduction into the world of science, and open the children's minds into a lifelong love of science!
Anitra
Save
Save
Save
Save
Save
Save
Save