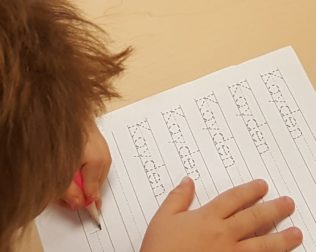 This post may contain affiliate links.  Please see the disclosure policy for more information.
For young children, learning to write can be a drudging process.  There are many things that go into teaching young children to write.  Can you just give them a pencil and let them figure it out and explore writing on their own?  Sure you can.  But unfortunately, most children will wither stray away from writing letters or get tired of writing the same letters over and over.  By all means, it is a good idea to give children writing tools and let them creatively "write" things on their own.  At some point, there will need to be some sort of formal introduction of the writing process for children, so that they are able to form the letters correctly and legibly.
There are many activities that young children can engage in as a way of introducing them to the process of writing.  The activities listed below are not an all inclusive list of activities; it is just an idea of what a teacher or mom can do to help introduce children to the world of writing.
Before introducing letter writing and formation, you can provide opportunities for children to trace shapes or objects.  These shape tracing boards have been laminated and the children use a washable marker to trace the shapes.  Once complete, they use a wet sponge and wipe the boards clean.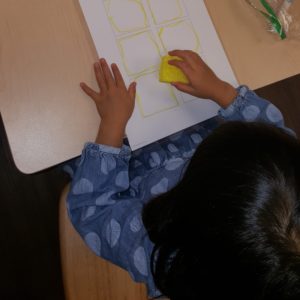 Start by having them use fat markers, fat pencils, and fat crayons.  For their small hands, it will make it easier in the beginning for them to grasp and hold the writing tool.  Also, providing young children the opportunity to create and write creatively is important.  Provide various writing tools and blank paper, so that they can practice making shapes; and eventually letters on their own.
Another good tool to use are stencils.  Larger stencils of various shapes, animals, and letters are good for writing practice and for pencil grip functions.  The small letter stencils provide more of a fine motor practice of writing and still allows the children the freedom to explore creatively and independently.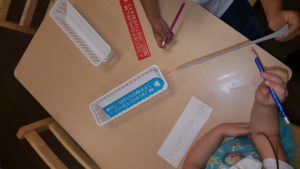 Once they have had practiced using the tracing boards and stencils for awhile, they may be ready for name tracing cards.  Of course, many factors determine if a child shows readiness for tracing their name.  Each child progresses at their own pace, and each child should be assessed on a individual basis.  Name tracing cards are sentence strips that are cut in half, that have their first name written on them.  I then have cut strips of tracing paper that I paper clip onto their name card.  The children trace over the letters in their name, and can take the tracing paper home.  This is especially effective for children who have difficulty holding or grasping a pencil or for those who may not have strong fine motor skills.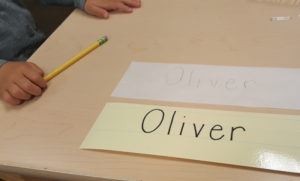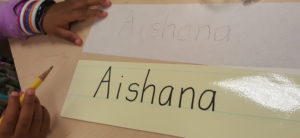 Once a child has developed strong fine motor skills and correct pencil grip, they can then be introduced to what I call their Name Paper.  It is created with a font software in a computer.  In the beginning, they trace over their name in print, and practice a few lines on their own.  I eventually add their last name, still using print.  Once they have mastered the correct formation of all of the letters, I introduce their first name in D'Nealian, and then finally adding their last name.  If they master D'Nealian, I introduce them to cursive.  Using the D'Nealian font makes an easier transition into teaching cursive.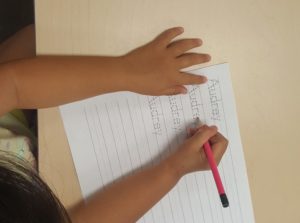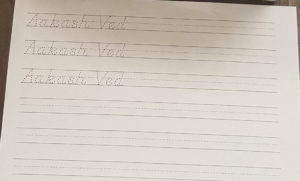 I have used, and continue to use these activities and others in my Montessori classroom. These tips and activities can help aid in the successful introduction and implementation of writing for young children.
Anitra
Save
Save
Save
Save
Save
Save
Save
Save
Save
Save
Save
Save
Save
Save