[social_warfare]This post may contain affiliate links. Please see the disclosure policy for more information.
It is Back to School time! The early mornings, trying to get everyone out of the house on time, and making lunches. Back to School means making and packing lunches. Whether you make and pack them at night or in the morning, it is still a chore to complete. Making a
nd packing lunches means endless amounts of zip loc baggies, tupperware containers, aluminum foil, ice packs and thermoses. All the makings of a disaster for a teacher…let me explain. In most, if not all, preschool (3 to 6 year old) classrooms in California, there can be a maximum of twenty four children and two teachers. A ration of twelve to one. If every child brings their lunch; all twenty four of them; that means that there are twenty four lunches that we have to help open. Sounds crazy, right? Well, that's my point! I work in a private preschool, and at least eighty percent of the children in my classroom bring a lunch from home.
It is very difficult to work and teach at a school who's philosophy is based on the independence of the children, when parents do not promote independence for their child when considering the containers and baggies they put in their lunches. For example, I understand that placing sandwiches in zip loc baggies are convenient and cheap, but most parents do not take into consideration how difficult it is for young children to open the baggies on their own. It is actually pretty difficult for them. On the other side, using tupperware containers are not any easier, as they tend to have very difficult lids that are not necessarily child friendly and easy to open for small hands. Even though aluminum foil and thermoses help keep food warm in instances when there is not a way to re warm food, but they tend to be equally as difficult for young children to open themselves.
I have noticed throughout the years that the above listed ways to pack a child's lunch are not practical for young children who need to learn to open things themselves. It is customary in my classroom, and in many Montessori classrooms, that children be able to at least try to open their containers and such at lunch time. In most cases, many of the children are very eager and willing to open their own things, and do not want the help of the teachers. They are building on their ability to be naturally independent and self sufficient. It is an important part of the Montessori philosophy to promote their inner ability to be natural learners.
With that in mind, I have come up with a list of lunch containers that are ideal in promoting the independence of your child at lunch time, which in turn leads to being independent at other feeding times as well! The below list are of items that children have had in my classroom over the past one to two years, and are, in my opinion, the best "child centered" products for promoting independent little learners!
4 Best Child Centered Lunch Containers
(Items listed are listed in no particular order)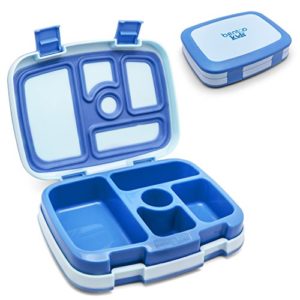 1. Bentgo Kids Childrens Lunch Box
The Bentgo Kids container is a popular one. It has two easy to open snap tabs, and the multiple compartments allows you to provide a variety of lunch choices for your child. It also comes in more colors for your child to choose from. They are durable & leak proof; and the inner tray is microwave and dishwasher safe. The outside has rubber coated edges for maximum durability, and it even comes with a free downloadable eCookbook!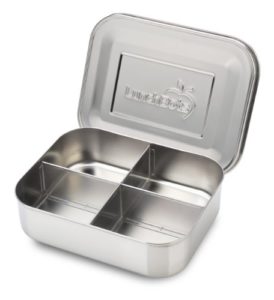 2. Lunchbots Stainless Steel Lunch Container
The Lunchbots lunch container is also a popular choice. It has an easy to open lid, and similar to the Bentgo box, it has multiple compartments to allow for a variety of food choices for your child. The durable stainless steel is built for long term usage. It is dishwasher safe, and also comes in a trio; with two different varieties for the trio box!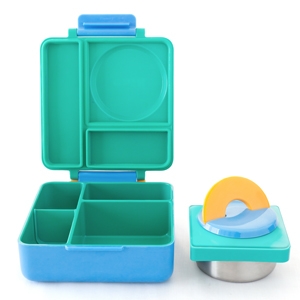 The OmieBox lunch box comes with a kid thermos that is insulated. It opens easy, as does the lunch box itself with a snap lid. It also has multiple compartments to provide a variety of food choices as well. The leak proof, double walled, air insulated lunch box can be used for hot or cold foods, and the insulated thermos will keep food hot for up to four hours!
4. Zojirushi Mr. Bento Lunch Jar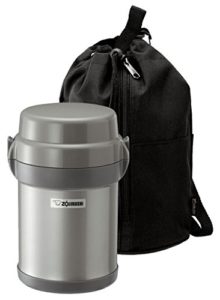 The Zojirushi Mr. Bento lunch jar is by far the most convenient one for keeping foods hot. It comes with four smaller insulated containers with lids, that are easily stored inside the jar. It can keep food hot (or cold) for up to six hours! It is vacuum insulated stainless steel, with microwavable food bowls. The bowls come in different sizes, and the jar itself comes in a variety of colors. It even comes with a convenient carrying bag!
All of the lunch containers will provide opportunities for your child to practice their fine motor skills. It also gives them an opportunity to be independent. Any activities that aid in your child being self sufficient and independent will in the long run lead to them being confident and autonomous in the future, and on in to adulthood. Come on, now who doesn't want their young child to be more independent?!
Looking for more Back 2 School posts? All through the month of August I will be bringing you posts giving you Back 2 School tips! Enjoy!
Anitra
Save
Save
Save
Save