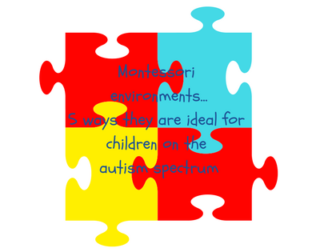 [social_warfare]
This post may contain affiliate links.  I may receive a small commission if you click on the links and purchase products.  Please see the disclosure policy for more information.
Could a Montessori environment be a good fit for a child on the autism spectrum?
The Montessori Method and environment is very unique.  The philosophy is based on individual learning, child led instruction and the development of the child.  The environment is carefully and thoughtfully set up & maintained based on the needs of the children, their various developmental levels and is inviting to the children.  The Montessori environment is aesthetically appealing to the eye, is strategically designed and provides a sense of calm and order.  For children who are on the autism spectrum, the Montessori environment has characteristics that may be ideal for their success and overall learning.
DISCLAIMER:
The following information is for informational purposes only.  The following information is not meant to diagnose or treat and should not take the place of seeking the advice of a trained and qualified healthcare or medical professional.
As stated by Dr. Lori Ernsperger, an autism specialist with over twenty years of experience; "the best way to make sure your students learn well is to ensure that the physical layout of your classroom is maximized and workstations are clearly delineated."  Following what Dr. Ernsperger has presented, a Montessori environment fits the description on what she has determined is an ideal environment for children on the autism spectrum.  A Montessori environment is very distinct and individualized.  The materials are mostly made of natural wood, and along with neutral colors are meant to soothe the senses, attract the children to the materials, and not distract from their learning. Environments that contain bold, bright colors can often be overstimulating to the children and the adults in the room.   Montessori classrooms are open, light & airy; and are peaceful and uncluttered.
All learning environments can be an integral part of a child's learning.  An enriching, inviting and  stimulating environment can provide an increased chance of children being successful in their learning.  Not only will they learn more, they will enjoy it and be more willing to learn!  If an environment is boring, drab, dark and not visually appealing, it could be harder for the children to want ti engage and learn; AND make it hard for the teacher to find ways to motivate themselves to teach.  I must say, personally, if my classroom was drab and boring, it would be a STRUGGLE for me to want to teach.  I prefer an environment that is fun and lively, but not overstimulating and distracting.
5 ways a Montessori environment may be a good fit for a child on the autism spectrum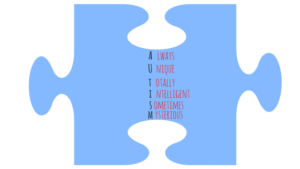 These tips on selecting an appropriate environment for a child on the autism spectrum are recommended by a autism specialist.  Please note that each child is different, and not every Montessori environment is the right fit for each child.  There are many things to consider when choosing a learning environment for your child.
Pay special attention to the physical  design and layout of the classroom
Always consider the flow of the classroom.  Think about how children and adults are able to manuever and move throughout the classroom; making sure to keep it as easy as possible.  Provide areas that are intended for smaller and larger group activities, and arrange the furniture and shelving to assist in that.  Montessori environments are well known for their design and layout characteristics; since they allow for children to roam freely through the classroom during the work period.
Be mindful of sensory stimulation
It is probably best to try to avoid overly stimulating the senses.  As stated before, overstimulating can be a distraction and disrupt concentration.  Consider things like lighting, windows, floor & window coverings and ceilings.  Equipping the classroom with carpet or investing in large area rugs to reduce the noise level, have dimmer settings on lights and use window coverings that allow natural light in; but not too much.  That is one of the things that makes a Montessori environment different; we try not to overstimulate the children with bold, bright colors on the walls, shelves and materials.
Try to eliminate or reduce clutter as much as possible
Excess or unused furniture, classroom teaching aids and even teacher collectibles can be a distraction.  Try to keep the classroom free of unused or rarely used items so that the children will not be distracted by them.  If possible, store these items away and bring them out as necessary or when needed.  If you walk into any Montessori classroom, you will notice how organized and orderly the materials and shelves are.
Use visual aids to define spaces and increase independence
Using visual aids throughout the classroom can help children in a variety of ways.  It helps them to understand the flow of the day, anticipate what activity comes next and can keep the day running smoothly.  Using visual aids on shelving can remind children how and where to put their work away.  It increases their independence and boosts their confidence as well.  Montessori classrooms use subtle visual aids as well to help children learn how to put their work away and where the group area is as well.
Have an area of the classroom where children can calm down and regroup
Preparing a calm down area for children to use if needed is important part of the environment.  Make sure the area is free of distractions and can be used for as long as the child needs.  This calm down area should never be used as a form of punishment, but an area for a child to relax, calm down and refocus.  In a Montessori classroom, this area is referred to as a Peace Area or Corner.  Sometimes it has a table, small floor pillows or a chair placed in an area of the classroom that is not near the hustle and bustle of the classroom.  It has items that are good for reducing stress and provide calming effects.  These are special items that are specific to the peace area, and are not found in other areas of the classroom.
As you can see, there are many benefits and positives when considering if a child on the autism spectrum will thrive in a Montessori classroom environment.  The Montessori environment provides many of the characteristics of an ideal learning environment that are recommended by professionals.  With Montessori being an individualized, child-led learning philosophy, the non-traditional, open flow of the classroom may be worth looking in to for your child.
Looking for more resources or information for children on the autism spectrum? Check out these books!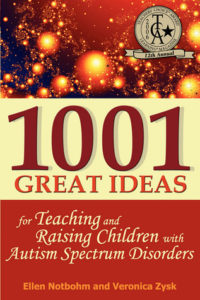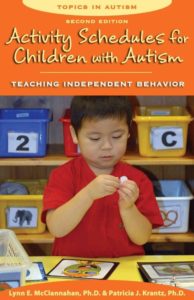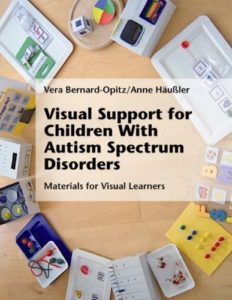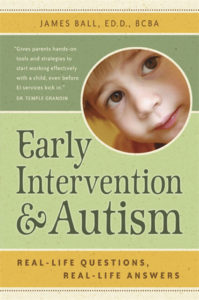 I hope that this information is helpful and insightful to parents and teaching professionals!
Anitra