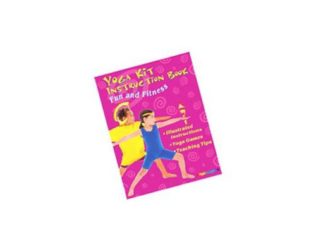 Yoga Kit For Kids
by Imaginazium. It came with:
25 yoga cards
24 page activity and instruction book
Music for Yoga CD
The individual yoga cards teach a simple yoga pose on the front, and a poem describing the pose on the back.  It also comes with a CD with two tracks on it.  One is a gentle, slow tune; and the other one is a little more quick and upbeat.  There is also an instruction book with pictures as well.  At the time, I wasn't really that in to yoga, but decided to purchase it anyway.  It seemed fun and inviting, and just different enough that it kind of intrigued me.  Over the years, I used the yoga cards periodically, but never on a consistent basis.  But when I did used them, the children seemed to enjoy participating.
Fast forward to about two years ago.  I had always noticed that every year, around the end of March all the way through the end of May, the children in my classroom would start to get a little rowdy.  I asked around and other teachers had similiar experiences in their classrooms as well.  The children would be louder than normal, not as focused, and would have a slightly difficult time "relaxing their bodies" as I say.  I had the idea to incorporate the yoga for kids cards into our morning, as a way of starting off our day on a good note. Obviously when I mentioned this to my Assistant Teacher she thought I was nuts, but I told her that it wouldn't hurt to give it a try, and what if it actually worked…
In my classroom, we go to the playground first thing in the morning before we start the traditional "Montessori Work Time".  We are outside for about 30 to 40 minutes, and then come in, do circle time, and begin the Montessori Work period which lasts for 2 hours.  When I decided to introduce yoga, I decided that it would be best if it was done immediately after the children came in from the playground.  As soon as we enter the classroom, I leave the lights off and instruct all of the children to go find a space on the blue tape(our circle time is designated by blue tape).  I turn on the slow, gentle music from the yoga CD, and instruct them to lay on their backs, relax and close their eyes.  I then tell them that this is a no talking time, and to just listen to the quiet music and wait for instructions.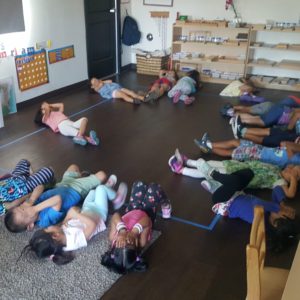 After about 2 minutes, I turn off the music and choose 3 to 5 yoga cards for them to do.  I hold up the card for them to see the pose, and once everyone is in the pose, I read the poem on the back.  Some of our favorites are Mountain, Tree, Peacock, Mouse…and my personal favorite, Do Nothing Doll!  I always end our yoga session with the Do Nothing Doll pose.  The children enjoy doing yoga and ask on a regular bases if we can do yoga!  I have noticed that by starting our day with yoga, they seem to be more focused, relaxed, attentive, and calm.  SUCCESS!  We now do yoga 2 to 3 times a week. NAMASTE!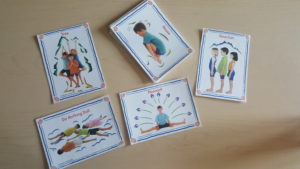 Anitra
Save

Save

Save

Save

Years ago, while looking for teaching resources, I came across an interesting find.  I found a book about introducing yoga to young children.  I found The