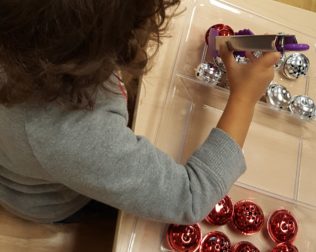 With November slowly coming to an end, it is time to shake up the shelves and add some December themed activities to them.  Changing out the activities frequently; but not too frequently, keep the children engaged, interested, and excited about working in the Practical Life area.  For those unfamiliar with the Practical Life area in a Montessori classroom or homeschool, it is the area that has many components to it that make it the most important area of a Montessori classroom.  They learn many practical, self help & care skills; hence where the name Practical Life stemmed from.  Since children learn basic working, concentration, and eye-hand coordination skills, it is the prerequisite to all of the other areas in a Montessori classroom.  Activities could include spooning, using a ladle, pouring, scooping, and cutting.  This is by far the busiest area of a Montessori classroom.
As Maria Montessori stated,"Activities here build on the child's natural interest and help him develop good work habits, concentration, eye-hand coordination, a lengthened attention span and control of his body."-Maria Montessori The Sense of Childhood, pg. 1.
Pictures of my classroom Practical Life shelves
If you would like more information about the Montessori Primary (preschool) classroom and all the areas of the environment, please click here to read my post where I describe in detail the Montessori environment.
I like to keep the work on the shelves fun and if possible, theme related.  For December, my themes are snow, Antarctica, Winter, Hanukkah, and Christmas.  The 15 December themed activities are actual activities that I use in my classroom.  I have tweeked, added to, and taken away various activities over the years, but this is my set up for this December.  I hope you enjoy them!
13 December Themed Practical Life Activities for home or school
1. Using tongs to transfer large jingle bells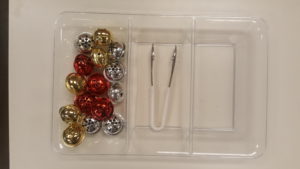 Children love transferring objects.  This work is great for that!
2. Stringing large bells on pipe cleaners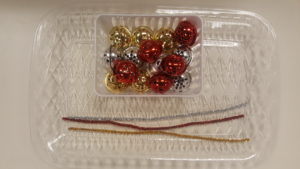 This is a more complicated work.  It takes patience to string the bells on the pipe cleaners.  Some challenges are good for them!
3. Spooning "snow"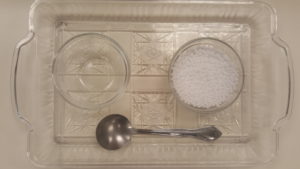 This spoon is wide and flat.  It is good to have a variety of different sized and shaped spoons for transferring works.
4. Using a ladle to scoop Christmas peppermint erasers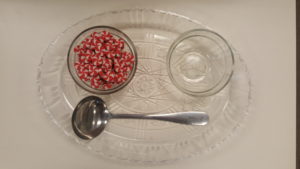 Using a ladle is another way to add variety to your activities.  The children LOVE the themed erasers as well!
5. Using a small spoon to transfer snowflake erasers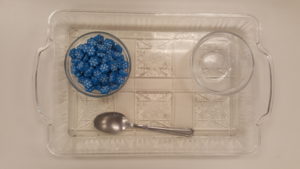 It may seem repetitious, but having the varying sized spoons adds a different element.
6. Using a medium spoon to transfer one to many with snowman erasers
Transferring one to many adds another element to a an activity.  It adds an option that wasn't previously used in the other works.
7. Using tweezers to transfer small jingle bells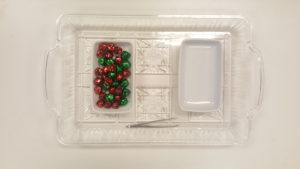 Tweezers are great for transferring objects.  They are a little more challenging than using tongs.
8. Using a tea infuser to transfer snowman erasers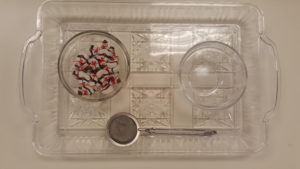 A tea infuser is a very unique tool to use for transferring.  It allows the child to use their "squeezing" capabilities.  It is a favorite!
9. Building a snowman
Make and put out the pieces to build a snowman.  A top hat, a large circle, a medium circle, a small circle with eyes & a nose, and add a few buttons.  Children have everything they need to build a snowman!  This is another favorite in my classroom!
10. Art sponge-painted polar bears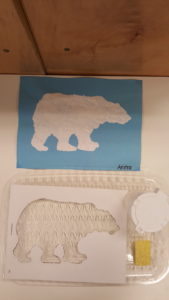 White paint, a small sponge, a polar bear stencil, and blue construction paper make for a fun polar bear!  I have them "dab" the sponge up and down to give the textured look of fur or snow.  These are FUN to make!
11. Making a snowman
Make a snowman with a snowman and hat template.  On the tray there is a pencil and crayons, so after the children trace the snowman and the hat, they can decorate their snowman as they like!
12. Hanging felt snowflakes with clothespins
Using clothespins, children will pin the felt snowflakes around the outside of a rectangular basket.  This is another favorite, and has been proven to be difficult at first, but they end up getting the hang of it!
13. Pin-poking a snowman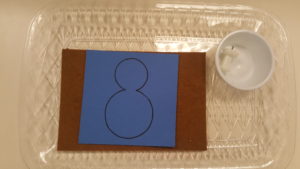 Using giant sized push pins, (after receiving a lesson on the safety of the push pins), children can poke around the outside lining of the snowman.  If they take their time, follow along the black line, and place their poking close together, it is easy for the snowman design to be punched out.  They then can take it home!  Pin-poking is a favorite by EVERYONE in my class!
BONUS!!!!! A couple of Math December Themed activities!!
14. Snowman counting with buttons
Children can practice their counting skills with these snowman labeled zero to ten.  The children can count and place the corresponding number of buttons under each snowman.  This is another favorite!
15. Mitten counting with felt snowflakes
Similar to the snowman counting, children practice their counting skills with the mittens labeled one to ten.  The children count and place the correct number of snowflakes under each mitten.
There are so many other amazing ideas that I incorporate into my classroom during the month of December.  So many that I am probably going to put together a "Part II" of the December Themed Activities for home or school, and include more of the math and language themed activities.  Be on the lookout for that in a week or so!
If you noticed, I use very simple, easy to find materials that I get from either the Dollar Tree or the 99 cent store to put together my activities.  There are two main reasons for that: One, they are cheap, and if something gets broken; no big deal, I'll just replace it since it only cost a dollar!  The second reason is that you can put together a shelf full of activities for around $20.00!!  Is that not amazing?!
I hope that I was able to inspire you and encourage your creative juices to go out and get some materials and put together some of your own amazing activities for December!  Now get out to those dollar stores and get to finding some great stuff!! Happy Hunting!
Anitra