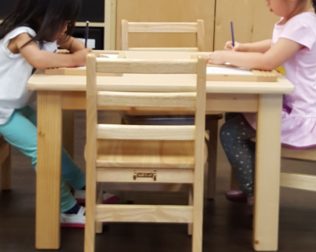 This post may contain affiliate links.  Please see the disclosure policy for more information.
Whether your child is going back to public school, preschool, or it is time to get back to your homeschooling routine, it means that it is time for your child to buckle down and get back to the academics.  In most cases, the time your child spends at school or preschool is not enough for them to them to master, learn, and even practice many skills necessary for their academic success. Phonetic letter sound recognition, number recognition, the ability to communicate effectively & use problem solving skills, and fine motor skills are all important aspects that are customary for children to know and master.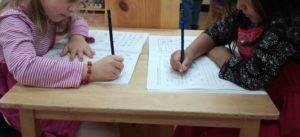 I have parents all the time asking me if there is something that they could be working with at home with their child.  I normally tell them to have their child read (if they are a reader), and advise them of a few resources for them to possibly purchase and/or add to their home.  As a teacher, I do not have just one academic area that I find is important over another one.  In my opinion, they are all equally important, and play an important part in the development of the whole child.  It is important to incorporate all aspects of a child's development, as well as finding ways to promote fine motor, cognitive skills, and critical thinking skills.  Trust me, no teacher would be disappointed to have a class of well rounded students!!
The activities I chose for the list are ones that can be used in a variety of ways and incorporated for use at home as extra support, for your homeschool, or in a classroom to enhance your curriculum.  I have direct knowledge and have used many of these items from the list in various ways either in my classroom or as an addition to my curriculum.
10 Activities that can used as extra support for your child's academic learning
The Add & Subtract Abacus is for three to six year olds.  It comes with a wooden base and the double-sided wooden boards.  The colorful beads make it easy to distinguish between each of the numbers.  This work is a way to explore numbers, colors, patterns, addition, and subtraction!  It is very multi-functional.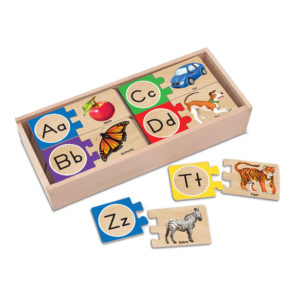 Self-Correcting Alphabet Letter Puzzles
The Self-Correcting Alphabet Puzzles are for four to six year olds.  The wooden puzzle pieces have a colorful object for the corresponding letter sound on one side, and letters from A to Z on the other side.  The interlocking pieces make it easy for young children to self correct and promotes independence and success!
The Alphabet Puzzle Cards are for four to six year olds.  The interlocking alphabet cards come in a great wooden box for easy storage.  The self correcting interlocking pieces insures that the puzzles are solved and matched correctly!  These puzzle cards promote independence and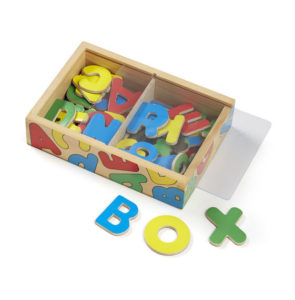 Wooden Letter Alphabet Magnets
The Wooden Letter Alphabet Magnets are for three to six year olds.  There are fifty two magnetic upper and lower case letters, that can be used for spelling, stenciling, matching upper and lower case, and for building words!  These letter magnets are great for all kinds of language ideas!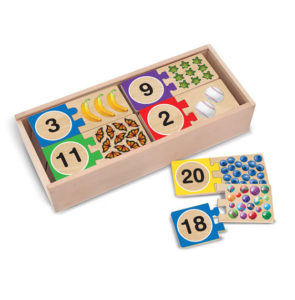 Self-Correcting Number Puzzles
The Self-Correcting Nu
mber Puzzles are for four to six year olds.  The wooden puzzle pieces have colorful, objects on one side, and numbers from one to twenty on the other side.  The interlocking pieces make it easy for young children to self correct and promotes independence and success!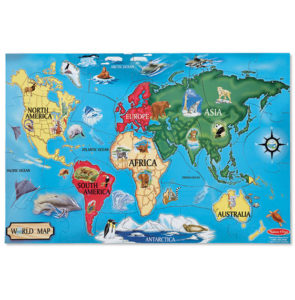 World Map Floor Puzzle – 33 Pieces
The World Map Floor Puzzle is for six plus years old.  Although, we a little assistance, I don't see why a four or a five year old couldn't be successful with this puzzle.  The puzzle pieces are made with an easy, clean surface.  This puzzle map is perfect for introducing and learning about the continents of the world.
The Turn & Tell Wooden Clock is for four to seven year olds.  The wooden base and large numbers make it easy for your child to be introduced to and practice telling time.  It has clickable hands to help mark off the minutes, it details hour, minute, half past, and quarter past.  There are also 13 double-sided time cards for practice as well!  This all-in-one clock is perfect for learning to tell time.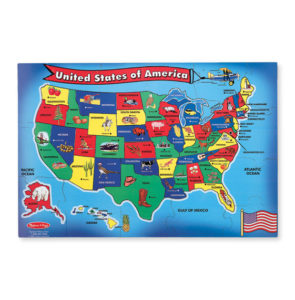 U.S.A. (United States) Map Floor Puzzle – 51 Pieces
The U.S.A. Map Floor Puzzle is also for six plus years old.  I believe that with a bit of assistance, a four or five year old would be able to do this puzzle in its entirety.  The extra thick puzzle pieces make this puzzle durable. This puzzle is great for introducing, learning, and studying all 50 States!
The Magnetic Wooden Numbers are for three to five year olds.  It comes with enough numbers to count from zero to twenty, and it includes five number signs as well!  These magnetic numbers can be used to introduce counting, number recognition, and simple addition & subtraction!
The See & Spell is for children four to six years old.  You can use the letters to spell the three and four letter puzzle words, spell other words, or use the letters as a stencil.  The cardboard puzzle boards and pieces are built for long lasting durability.  This is a spelling and fine motor activity wrapped into one!
Adding one or many of these activities to your child's daily teachings will put your child on the right path to mastering many of the necessary skills needed for their future learning.  The activities are adaptable and allow for use in a classroom or homeschool environment, or just as a supplement at home for your child.
Anitra
Save
Save
Save
Save
Save
Save
Save
Save
Save