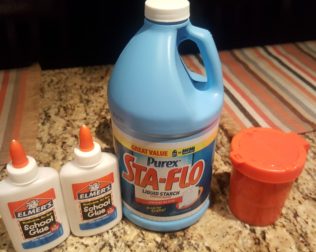 [social_warfare]
This post may contain affiliate links.  Please see disclosure policy for more information.
Young children benefit greatly from sensory experiences.  They use their senses to explore and discover the world around them.  Exposing children to tactile activities helps with the growth in physcial abilities, cognitive and language skills, and social and emotional development as well.  Tactile experiences are sometimes overlooked when educators prepare early childhood environments, but the importance of sensory/tactile experiences is something that should not be left out of a young child's everyday learning activities.
There are many ways to add sensory/tactile experiences to your curriculum; playdough, water tables, sand tables, and shaving cream are just a few.  There are endless everyday items that can be used as sensory experiences for young children.
Looking for a fun and easy activity to add a tactile activity to your homeschool or classroom curriculum?  Make Flubber!
Flubber. Slime. Putty. Whatever you'd like to call it, it's fun, ooey, gooey and is super easy to make!  There's just one rule to making flubber…get your hands in it! Smush it, mush, squish it with your hands so that you can make sure it gets mixed well.  All you need is  three simple items, and you can make flubber in no time.  You will definitely be a hit with your own children or children in your classroom.
I have made this particular flubber for many, many years.  It is always a favorite in my classroom.  You can use cookie cutters with it, cut it, roll it, or spread it out…whatever you'd like!  It adds a little different element to tactile learning than playdough, and it is just as fun!  Below are the simple and easy steps to making your own flubber.
Making Flubber
Materials needed:
Colorations Washable Tempera Paint (any color)
Bowl
1 cup measuring spoon
1 teaspooon measuring spoon
Silicone spatula (optional)
STEP ONE:
Measure out 1 cup of Purex Sta-Flo Liquid Starch into the measuring spoon.  Pour into the bowl.
STEP TWO:
Measure 1 cup of Elmer's School Glue into the measuring spoon.  Pour into bowl with liquid starch.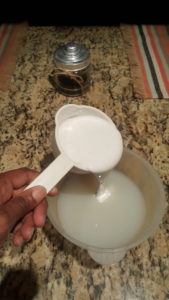 STEP THREE:
Measure 2 teaspoons of Colorations Washable Tempera Paint into the mixture in the bowl.  (I chose orange to go with the Fall theme).
STEP FOUR:
Using spatula and or your hand, mix everything together.  Keep mixing until all of the liquid starch, glue, and paint are blended well.
STEP FIVE:
Next, take the flubber mixture and place it into a ziploc bag.  It is normal for it to be very wet and stringy, so don't worry.  Once it is in the bag, you can mix it a little more by squishing it and mushing it.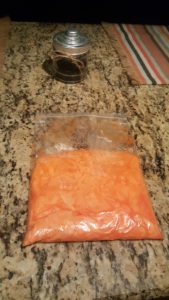 The flubber will need time to sit and form.  You will need to let it sit for at least a few hours, maybe longer.  You want it to not be super wet, and for all of the liquid starch and glue to be as one.  If it is still stringy and really wet, let it sit for awhile longer.  Keep the flubber stored in the ziploc bag in between uses.  Flubber lasts anywhere from two to four weeks, depending on how often it is used.  Use your discretion on if you feel the flubber should be thrown out.
Flubber is an easy, fun, and simple way that you can add a great tactile element to your curriculum.  It's awesome for adults too!!
Enjoy!
Anitra
Save
Save
Save
Save
Save