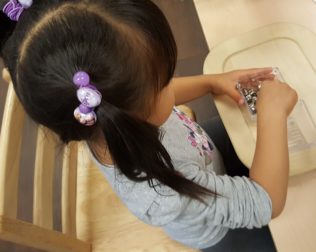 You've probably heard about all the hype and craze surrounding Montessori and Montessori schools. Anything and everything from the teaching method,the classroom environment, child led activities, and Montessori materials.  But what does all that mean?  The Montessori method is a very unique, very distinct, very individualized learning environment with a proven way of teaching young children.
The materials, along with the carefully prepared environment, is what makes Montessori, Montessori.  There are various areas and activities of a traditional Montessori classroom.  This is what sets a Montessori primary (preschool) classroom apart from other preschool classrooms. Many people have heard of Montessori, but haven't had the opportunity to actually see inside or visit a classroom.  Please be aware that there are many different Montessori run schools, each individually owned and operated; so unfortunately not every Montessori school classroom will be set up or run exactly the same.  With that being said; I try to keep a traditional Montessori classroom.
Curious to learn and find out more…?   The pictures are from my actual classroom that I currently teach in.  The shelves are child sized, with age appropriate, enticing materials.  The common item you will notice in most Montessori classrooms and materials is wood.  The use of natural wood for the shelves and materials, along with neutral wall colors, is meant to soothe the senses and and the attract the children to the beauty of the room.  Montessori classrooms differ from other preschool classrooms in that they are calming, peaceful, and uncluttered.
LANGUAGE AREA
"Language lies at the root of that transformation of the environment that we call civilization." -Maria Montessori The Absorbent Mind, pg. 98
The Language Area is composed of phonetic sound recognition, three letter phonetic word building, four letter and more phonetic word building, and blends & phonograms.  The three letter words make up the Pink Level, the four letters and more make up the Blue Level, the phonemes and hard & soft letters make up the Green Level.
The Pink Level also covers word families, picture to
word matching, and easy phonetic sentences.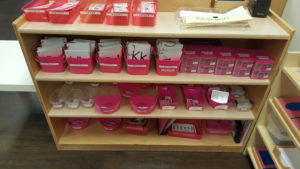 The Blue Level also covers beginning & ending
consonant blends, and complex phonetic words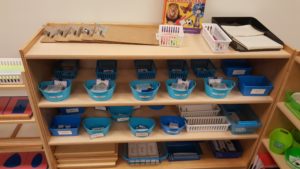 The Green Level also covers silent "e", double vowel consonants, phonemes, and hard & soft letters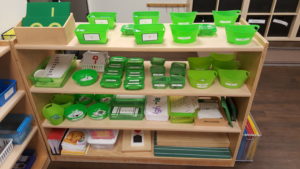 I also have opposites, parts of speech, sentence building & writing, and even antonyms & synonyms.
MATH AREA
"The results we obtain with our little ones contrast oddly with the fact that mathematics is so often held to be a scourge rather than a pleasure in school programmes."-Maria Montessori The Absorbent Mind, pg. 170
The Math Area is composed of number recognition up to ten, mastering the teens & tens, and working on numbers up to one hundred.  This area also covers simple addition, subtraction, multiplication, and even division.  More complex works include place value, the clock, and fractions.
Number recognition from one to twenty, with various materials & activities to master these skills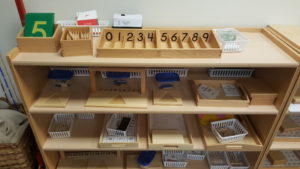 Simple addition, the tens work, & the hundred board all round out the Math Area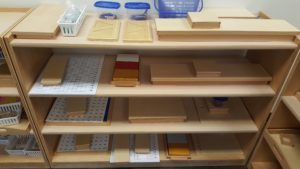 Telling Time, Place Value & Fractions are the
more advanced Math activities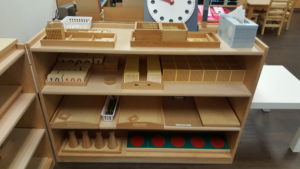 SENSORIAL AREA
"And if we look at the sensorial apparatus which is able to evoke such deep concentration…helps also to the development of the mathematical mind."-Maria Montessori The Absorbent Mind, pg. 170
The Sensorial Area is composed of activities that engage the senses of the children.  There are activities for smell, taste, and hearing; and various materials that promote sight and touch.
Sensorial materials to manipulate sizes, color,
touch and hearing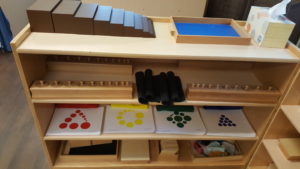 Complex materials that introduce geometric shapes, as well as tasting & smelling materials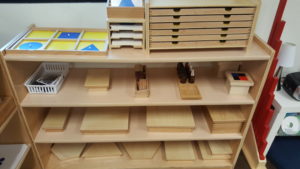 CULTURAL/GEOGRAPHY AREA
"…the child's mind can acquire culture at a much earlier age than generally supposed, taking in knowledge is by certain kinds of activity which involve movement."-Maria Montessori The Absorbent Mind, pg. 157
The Cultural and Geography Areas is the area of a Montessori classroom that frequently changes.  It is an area where new activities can be added on a weekly or monthly basis.  These areas are composed of science, botany (plants), zoology (animals), geography, and art.  This is by far one of the busiest areas of a Montessori classroom.
Study of continents, seasons land, air & water                                  Botany, zoology, & insect puzzles and magnets
Geography Maps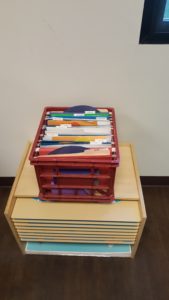 PRACTICAL LIFE AREA
"Activities here build on the child's natural interest and help him develop good work habits, concentration, eye-hand coordination, a lengthened attention span and control of his body."-Maria Montessori The Sense of Childhood, pg. 1
The Practical Life Area is another area of a Montessori classroom that changes frequently.  The Practical Life Area has many components to it that make it the most important area of a Montessori classroom.  Since children learn basic working, concentration, and eye-hand coordination skills, it is the prerequisite to all of the other areas in a Montessori classroom.  Activities could include spooning, using a ladle, pouring, scooping, and cutting.  This is by far the busiest area of a Montessori classroom.
Other activities include food preparation work,
and using tongs & tweezers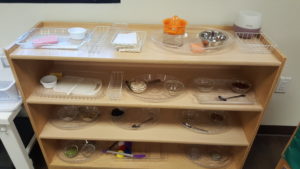 There are also washing activities, bubble making,
table setting, and water activities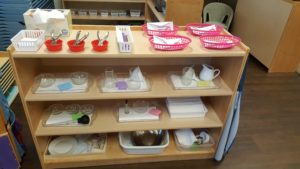 All of the areas in a Montessori classroom contribute to the development of the whole child.  As stated before, not every Montessori classroom will be furnished and set-up exactly the same.  In quality, true to Montessori schools and classrooms, you will see similar setups and materials.  One of my favorite areas is the Practical Life Area, I like to come up with fun water work activities, food preparation works, and washing activities.  I like to add variety, and add activities that promote the individual needs of the children currently in my classroom.
Now can you see what all the hype is about?!  Trust me, the pictures just give you a small glimpse of what a Montessori environment looks like.  Can you imagine how wonderful it is to see the children actively working in a Montessori classroom…it's PRICELESS!!
Anitra
Save
Save
Save