This post may contain affiliate links.  Please see the disclosure policy for more information.
Favorite Book Fridays Series Post #3
It's that time again for Favorite Book Fridays!  Looking for a new favorite book to introduce to your child or the children in your classroom or home school?  I created this weekly series to share with you some of my all time favorite children's books.  I love books!  I have over one hundred books in my personal collection, and I still add to my collection as often as I can.  Here is post 3 of the weekly series, Favorite Book Fridays.  I hope you enjoy it as much as I do!
Title: The Napping House
Author: Audrey Wood
Illustrator: Don Wood
This book has actually been one of my favorites for awhile.  I have read other books by this husband and wife duo, and frankly, they put out amazing content and products!  They are also author and illustrators to another one of my favorite children's books; The Big Hungry Bear.  The Napping House has a repetitious story line that is fun and silly, and keeps young children intrigued from beginning to end.  The amazing, colorful, and beautiful illustrations are an added bonus that compliments the story very well.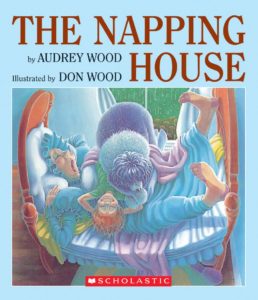 The Napping House is a story that tells the tale of a Granny sleeping on a rainy night.  Gradually, many members of the family pile on top of the napping Granny and get cozy.  A child, a dog, a cat, and a mouse are just a few of the characters that pile on top of the napping Granny.  Eventually, the pile of characters gets a tiny character that wakes one member of the family, and sends off a chain reaction!  They then become too much for the bed to handle, and down they all go!  Children love watching the bed get heavier and heavier, as the members of the family keep piling on.  They laugh with delight as they get woken up in such a silly manner.  When morning comes, no one in the house is sleeping anymore.
This is a favorite of mine because of the silly nature of it.  "Silly" is a common trait I look for when selecting a book to purchase and add to my children's book collection.  I look for books that have a good story line, that are silly in nature, and that are not too long.  I also tend to steer clear of children's books that have a lot of words on each page and those that don't have a lot of pictures.  The pictures, along with a decent amount of words on each page, is what will keep young children engaged in the book.
I hope that this book becomes one of your favorites too!  Although this book doesn't have a catchy tune or song to go along with it, the story and the pictures are sure to capture children's attention, and become a classic that is read time and time again!
Enjoy and Happy Reading!
Anitra
Save
Save
Save
Save