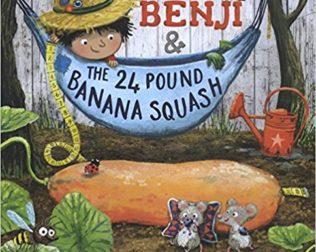 [social_warfare]
One or more of the products mentioned in this post were provided to facilitate a review.  This post may contain affiliate links.  Please see disclosure policy for more information.

I'm here with another great book review!! I'm so excited about being able to review books from authors that I am not so familiar with, and that write amazing and interesting children's books that have great content and story lines younger kids can relate to.  With that being said, this leads me to my next review of Benji & The 24 Pound Banana Squash.  It is written by entrepreneur and philanthropist Alan C. Fox.  Alan C. Fox is a successful New York Times bestselling author of numerous relationship books.  Benji & The 24 Pound Banana Squash is his first children's book, and is based on a true story; his true story of how he grew a gigantic banana squash when he was younger!  Alan C. Fox is also the editor of a poetry journal called Rattle, and each year they publish a book of poems written by children.  For more information about Benji & The 24 Pound Banana Squash and Alan C. Fox, please click here.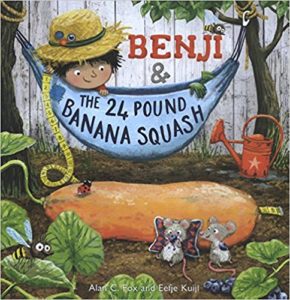 Benji & The 24 Pound Squash is about a boy that has been patiently ,(rather impatiently) waiting for the time to be right for him to plant his banana squash seeds.  When the time is finally right, Benji, with the help of his mom, go out and plant the seeds, water them, and cover them with dirt.  Poor Benji impatiently watches and waits for the seeds to sprout for weeks.  He goes to visit his garden daily until he sees a sprout, and in no time his seeds have grown into a giant banana squash…a 24 POUND squash!
I read this book to my class of preschoolers who range in age from three years old to six years old.  I read the book right before we talked about and carved our pumpkin.  After reading the book and then carving our pumpkin to examine and learn about the parts of the pumpkin, we discussed the seeds, and the process of growing a squash and a pumpkin.  This book tied in nicely with learning about pumpkins and the pumpkin life cycle theme we are doing!  It would also be great to tie in with spring time planting and growing of plants and vegetable as well.  I particularly enjoyed the ending of the book, where Benji and his family decided to cook and eat his giant banana squash.  The book does a great job tying in the concept of garden-to table.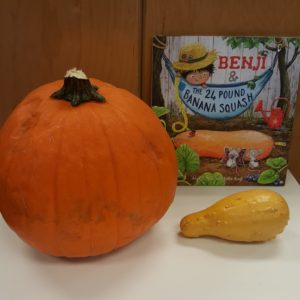 Here is our pumpkin and a small squash from my classroom.
Benji & The 24 Pound Banana Squash has bright, colorful illustrations and an overall great story.  I will definitely use this book in the future as part of many of my curriculum themes.  This book teaches children about the importance of care, patience, love, and perseverance!
I hope you enjoy this book as much as my class and I did!
Enjoy!
Anitra
Save
Save
Save
Save