[social_warfare]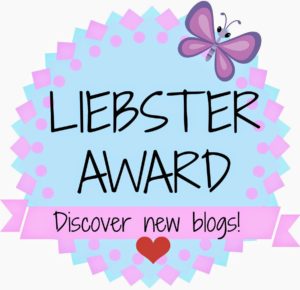 I have been nominated for the Liebster Award…again!  I am so grateful and thankful to have this opportunity again.  The first time around, I was a new blogger; crazy right, I'm still a new blogger!  But at that time, I had maybe 2 posts on my blog, about 10 Instagram and Twitter followers, and NO subscribers to my blog…it was a time when I thought that this whole blogging thing wasn't for me.  Thank goodness I was nominated back then and accepted!  That nomination literally saved chronicles of a momtessorian!  I have met so many AMAZING people through my blogging journey since then, and it has just begun!  I know that I will continue to meet, make, and develop connections with so many more amazing people…like Shelanda Brown from Only Girl in the House, who nominated me!!!  She has a great family, travel and lifestyle blog and is a mom to three boys!  Thank you to Only Girl in the House, I really appreciate and feel the love!
As one of the  requirements for being nominated, I must answer the questions below, nominate up to 7 other great bloggers who I think are deserving, and send them a nomination along with a list of questions to answer as well.
Here are the questions I was given:
What is the most extreme thing you've ever done?
Start a blog and put myself and my thoughts out there for all to see.  It made me very vulnerable and it was WAY out of my comfort zone. Besides that, my personality is extreme enough I don't really need to necessarily DO extreme things!! LOL!
If you give someone $1,000,000, who would you give it to?  Why?
I would give it to my 2 daughters.  They deserve to not have to struggle through life.  I would want them to travel and see the world.
Samsung all the way. Although, I do have an Ipod!
Name the top 3 beaches you've ever visited.
Cabo San Lucas, Puerta Vallarta, and the Oregon Coast.
When do you find time to blog?
Every moment that I have available.  I blog at work in my classroom, on my lunch break, at my daughters soccer games and practices, before I go to bed…it really is an addiction!
If you could have dinner with anyone past or present, who would it be?
My Maternal Grandfather.  I was really young when he passed away, and I only have photo memories of him.  I'd like to know who he was personally.
Who are you writing your blog for?
Everyone and anyone! I love writing and sharing activities from my classroom, from my years of teaching, and new lessons and ideas.  I hope that readers will find my blog useful.
What was the inspiration for the name of your blog?
chronicles of a momtessorian…I wanted to chronicle my journey of being a mom and a Montessori trained teacher; so what better way than to combine "Mom" and "Montessorian"!?
What's your quote you live by?
"If my mind can conceive it, and my heart can believe it, then I can achieve it."-Muhammad Ali
You know, at this point, I'd take a little bit of both!  I wouldn't mind having fame, and I'd sure wouldn't mind having money too! Hahaha!!
Enough about me…now is the time for the next set of amazing bloggers to be recognized for the efforts!  Without further ado, I nominate the below 7 blogs for the Liebster Award!!!
Aubree at Simply Between Us
Lisa at Making Life Richer
Wendi at Learning Engaged
Chad at The Royal Brew
Hollie at Our Life's Little Adventures
Yolanda at Yolo Mommy
Ashley at Faith + Motherhood
For the official rules, please click HERE.
If you accept this nomination please answer the above questions and nominate up to 7 blogs to continue the Liebster Award process.
Congratulations!
Anitra
Save
Save
Save
Save
Save