This post may contain affiliate links.  Please see the disclosure policy for more information.
Favorite Book Fridays Series Post #4
Favorite Book Fridays is becoming one of my favorite topics to write about!  I am having a great time sharing my favorite books with everyone, and I am getting great feedback on the books that have been featured on the weekly series.  This weeks choice is a good one as well; it will not disappoint!  I read this book earlier this week in my classroom as a part of our study of Australasia (the continent of Australia, the island of New Zealand, and Papau New Guinea).  We learned about the animals of Australasia.
A change in your regularly scheduled programming…
This weeks Favorite Book Friday will feature two books!  That's right, every once in awhile I will feature two books on Favorite Book Fridays!  The two books featured are books that have a part 2 or a "to be continued" book that follows the first book.  I am excited to share with you the first of the two book features.  I hope you enjoy them both as much as I do!
Title: Edward the Emu
Author: Sheena Knowles
Illustrator: Rod Clement
I first stumbled upon this book back when I first started teaching, over 17 years ago.  The story itself is about accepting who you are, and being comfortable who you are.  I especially enjoy the clever, rhyming text that is catchy and fun.  The pictures are some of the favorites in all of the hundreds of books I own.  They are drawn with such character, details, and with vivid colors.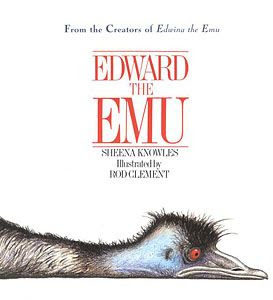 Edward is an Emu that lives in a zoo.  He gets bored being an emu, so he decides to go and be other animals in the zoo.  He becomes a seal for a day, a lion for a day, and a snake for a day.  Then he finds that the emus are what most people come to the zoo to see, and decides that he should be an emu again.  But, when he gets back to his den he notices that he's been replaced…by another emu!  Edward the Emu has a good life lesson on confidence and self esteem, and reminds you to love yourself, just the way we are!
But wait…there's more!
And if Edward the Emu wasn't great enough…there is Edwina the Emu!!!  Edwina is the emu that was brought in to take Edward's place once he went missing in the zoo. The story is just as well written as Edward the Emu, with the same rhyming, catchy text and the amazing illustrations.  I think that the illustrations in both books are magnificent!
Title: Edwina the Emu
Author: Sheena Knowles
Illustrator: Rod Clement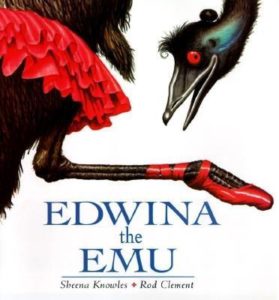 Edwina and Edward enjoy the zoo, and one day Edwina announces that she has laid ten eggs!  They decide that Edward will stay home and sit on the eggs while Edwina goes out to find a job.  She tries being a ballerina, a chimney sweeper, and a waitress, but to no avail.  After not being good at any of the jobs, sh then she figures out what her job should be…a mother!
Both of these books will surely have you wanting more.  They both are great additions to any classroom, teacher, home school, or child library!  I hope that you enjoy them both as much as I do.
Until next week, Happy Reading!
Anitra
Save
Save