[social_warfare]
I received a free product from Montessori Services valued under $50 to provide an honest review of this product.  All opinions expressed are my own.  This post may contain affiliate links, please see disclosure policy for more information.
Over the years, I have ordered various Montessori materials and supplies from Montessori Services for my classroom. They have a great selection of products for your classroom, and if you are a parent interested in implementing Montessori materials and Methods at home, For Small Hands has great products as well.  They have a large selection of Montessori materials and products, from the traditional areas of a Montessori classroom; like Practical Life, Language, and Math; to supplemental products such as books, music & movement and art.   I have in the past constructed a color mixing activity as a Practical Life work in my classroom, so I was more than excited when I received the Color Mixing Activity Set from Montessori Services!
The Work:
Color Mixing Activity Item # Y30The Color Mixing Activity Set Item# Y30
Includes: (everything is pictured below)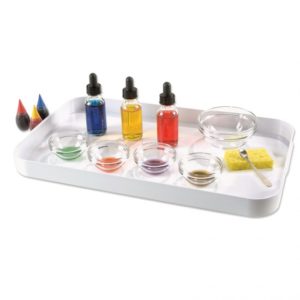 (Photo courtesy of Montessori Services, used by permission)
Food Coloring
Sponge
Presentation Suggestions
Set Up and Steps:
The setup:
Using the Presentation Suggestions, I prepared the work as instructed.  I filled the clear glass bottles with water up to the neck of the bottle.  I added a few drops of red, blue, and yellow food coloring into each glass bottle, put the caps on, and shook up.  Next, I set up the tray as instructed; following the Presentation Suggestions.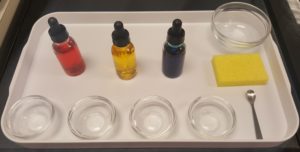 After I gave the initial lesson to the children in circle time, it was then available for them to use.  During the initial lesson, I reviewed how to use an eye dropper.  Here is one of my older friends completing the Color Mixing Activity step by step.
Get an apron.  I prefer to provide aprons for the children in my class to use when they do water works.  It is a personal preference, and it not mandatory.
Next, here she is using the eye dropper to mix red and yellow.  Using the tiny spoon, she mixed up both colors and got orange.
Next up, she used the eye droppers to mix red and blue together, getting purple.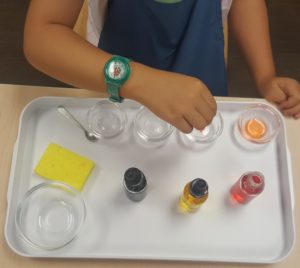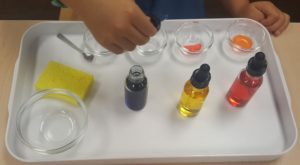 Lastly, she used the eyedroppers to mix yellow and blue, getting green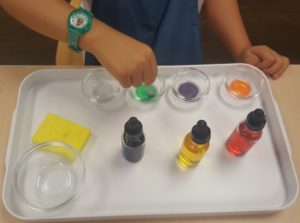 The fourth small bowl is used for experimenting.  She chose to make purple again, since it is her favorite color!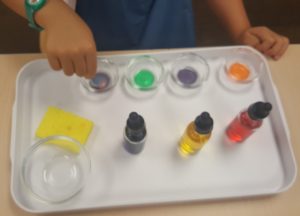 The Clean Up:
Pour all of the contents from each of the small glass bowls into the larger glass bowl.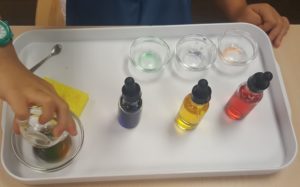 Use the sponge to wipe out each of the small glass bowls, and the tray, if needed.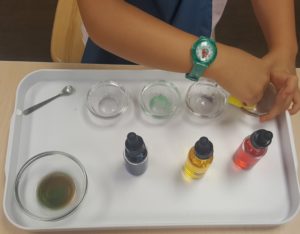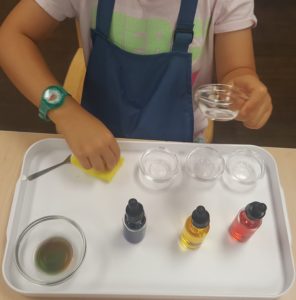 Pour out contents of the larger glass bowl.  Using the sponge, wipe it clean.  The work is complete!
This work was so fun!  I had fun introducing it, and the children had a blast using it.  It was SO popular, I had to limit the number of times they could do it today.  I had quite a few friends cry that they were not able to do this work today, as we ran out of time during Montessori Work Time!  I really liked how EVERYTHING that I needed came with the work.  I didn't have to purchase anything else to go with it; (I already had the aprons), and the convenience of that is a huge time and money saver.  The work is durable, and I like that most of the items used in the work are glass.  If you've been following my other posts, you know how much of a fan I am of using glass in my classroom.  This complete Color Mixing Activity is a good work for use in a classroom, home school, or for a parent looking to incorporate Montessori materials in their home!
I hope that you enjoy this work as much as my class and I did!
Anitra
Save
Save
Save
Save
Save
Save