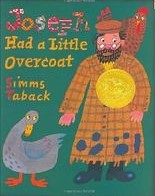 This post may contain affiliate links.  Please see the disclosure policy for more information.
Favorite Book Fridays Series Post #5
Favorite Book Fridays is back again!
Looking for a favorite book to call your own?  Well, look no further!  This weekly series was created to assist you and hopefully your child in finding YOUR favorite book.  I don't know about you, but this weekly series is a highlight of my week!
Each week, I find myself searching through my collection of books to find books that you may not be familiar with or that may not be as mainstream as other books by other authors.  One of my goals of this weekly series is to hopefully introduce you to a book that is new to you and your child and to promote a love of reading that will last into adulthood. This series is dear to me, as it really delves into my love of books, and the diversity and variety of books that are available out there for young children.  I am ecstatic to bring you this series every week, and I hope that you are enjoying this weekly series as much as I am!
Title: Joseph Had a Little Overcoat
Author: Simms Taback
Illustrator: Simms Taback
I came across this book in my early years of teaching.  It has an older, classic feel to it, but nonetheless, it has a catchy, lively story and eye-catching illustrations.  It has a great, practical lesson at the end, which I think is important for children to learn.  The story is about finding a way to be happy with what you have.  This book is a winner of the Caldecott Medal and the National Jewish Book Award for Children's Picture Book.
Joseph Had a Little Overcoat is a story about a Jewish farmer that has an overcoat.  His overchttps://chroniclesofamomtessorian.com/wp-admin/post.php?post=1155&action=editoat get old and worn, and he decided to make something else out of it.  He continues to remake things from his overcoat; a jacket, a vest, a scarf, a neck tie, a handkerchief until  he ends up with just a button.  In the end, he loses his button; but concludes that "you can always make something out of nothing."  The illustrations are very colorful and vibrant with the use of watercolors, collage, and die cut  imagery.  It is a method that is similar to that of the illustrations of Eric Carle and Leo Lionni.
I love the moral at the end of the story.  It is something that I feel everyone; children and adults, should learn.  It's not always about what you have, it's about making the most of what you have and finding a way to make something out of nothing!  This is something that can be used for various aspects of daily life, and I think that it is brilliant that it is taught in a book for young children!
Enjoy and Happy Reading!
Anitra
Save
Save
Save
Save
Save
Save
Save