One or more of the products mentioned in this post were provided for free to facilitate a review.  This post may contain affiliate links.  Please see disclosure policy for more information.

It is no secret…I LOVE BOOKS!!!  So when I was presented the opportunity to review a book, I jumped on the chance!  The book comes all the way from England, my dream place to visit!  It is written by Bryony Supper, who is the creator of Pasta Kidz & Petz.  Bryony is an actress and comedian, who has used her humor to write books for children.  For more information about Pasta Kidz & Petz and Bryony Supper, please click here.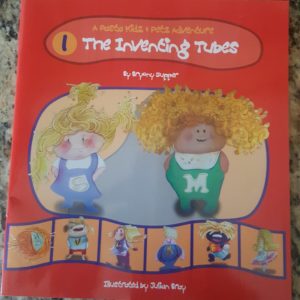 The Inventing Tubes: A Pasta Kidz & Petz Adventure
The first book in the twelve book series of the Pasta Kidz & Petz Adventure series is The Inventing Tubes.  The book feature a few of the various Pasta Kidz and Petz characters.  Marc Macaroni and Sarah Spaghetti want to use the Inventing Tubes to invent a pastaball to use in the Pasta United soccer game.  Sarah gets impatient and doesn't read the instructions.  Instead of a great pasta ball, she instead invents a CRAZY BALL!!!
Pasta Kidz
Pasta Petz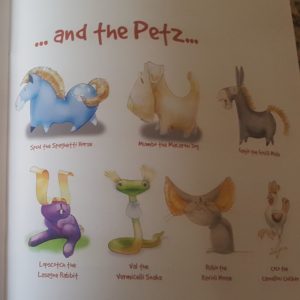 The crazy ball couldn't be caught, so Marc and Sarah enlist in the Pasta Petz; Spud and Mumbo to help catch the crazy ball.  The Petz arrive in their amazing Pastamobile and get rid of the crazy pasta ball.  Sarah learns a valuable lesson; be patient when doing things and follow instructions!
I read this book to my class of children 3 to 6 years old.  They absolutely LOVED it!! They really liked the silly characters; they enjoyed the pasta hair that they have.  The characters are easy for young children to relate to and fall in love with.  A favorite part of the book was when Spud and Mumbo showed up in the Pastamobile!  It was hilarious!
Pasta Petz Pastamobile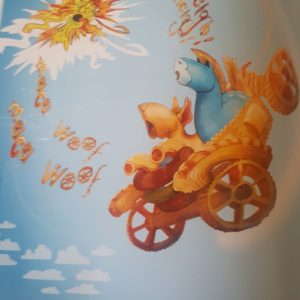 I really enjoyed the book and can't wait to see more of the titles!  A big thank you to Bryony Supper for the signed copy of the book, I really appreciate it!
Enjoy!
Anitra
Save