One or more of the products mentioned in this post were provided to facilitate a review.  This post may contain affiliate links.  Please see disclosure policy for more information.

If you know me, you know that I am a strong supporter of BOB Books for young readers.  BOB Books Sets one to five are the normal go to books I use in my classroom for all children when introducing reading.  They are great stories, increase gradually in difficulty, and provide just enough of a challenge for beginning readers.
I faithfully use the first five sets of BOB Books, and am excited that there are even more BOB Books for them to read! For more information on how to first introduce your child to BOB Books, please check out that post here. BOB Books are readers that provide beginning readers to successfully sound out words phonetically, be introduced to and learn sight words, and practice blends, vowel pairs, long vowels, and other complex spelling and reading rules.
There are three Stages of BOB Books, as well as a Reading Readiness set of books.  The first stage, Stage 1:Starting to Read is the beginnings of a child's reading adventure.  It contains three sets of books, one of which being Sight Words Kindergarten.  It can be used as support with the other books in Stage 1.  The great thing about the Sight Words Kindergarten books and the Sight Words First Grade books is that both sets come with sight word cards that have sight words on one side and a sentence using the sight word on the other side!  Score!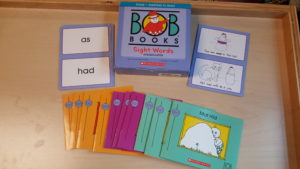 Sight Words Kindergarten Boxed Set
Here is one of the children in my class reading Book 1 of the Sight Words Kindergarten books.
The Sight Words First Grade books go with Stage 2.  Stage 2 also contains three book sets, and also supports the other books in the stage and allows children to practice reading, learn more sight words, and continue practicing the rules of reading.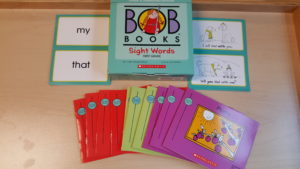 Sight Words First Grade Boxed Set
Here is another child in my class reading Book 1 from the Sight Words First Grade books.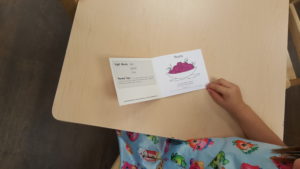 BOB Books simply are great readers for young children beginning their reading journey.  The books have great stories, cute pictures, and easy to love characters!  BOB Books are a necessity in your classroom or homeschool as a part of your language and reading area.  One of the most important things to consider when introducing a child to reading for the first time is that you follow the lead of the child.  Making sure the foundation is set before introducing reading will ensure the child a great start for reading. Follow the development of the child, do not rush or push their process.  Doing so may lead a child to not be successful and confident in their reading journey.
If you are unfamiliar with BOB Books, you can see what they offer young readers here.
Anitra
Save
Save
Save
Save