One or more of the products mentioned in this post were provided to facilitate a review.  This post may contain affiliate links.  Please see the disclosure policy for more information.

It just doesn't get any better than this!  My favorite books to teach young children to read have really outdone themselves with their newest products; BOB Books Reading Kits!! If you know me and you follow my blog, you know that BOB Books have been an important part of and a necessity to my classroom.  I have used BOB Books in my classroom for over 17 years, and I feel no curriculum is complete without them.   I was so excited to be given the opportunity to review and use the reading kit in my classroom!
The BOB Books Reading Kit is for beginning readers and is available for sale at Costco.  The main characters of the BOB Books; Mat, Sam, and Dot are also available to enhance the reading experience for the children!  Mat, Sam, and Dot are celebrities!  Haha!!!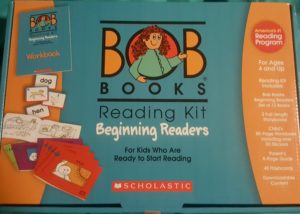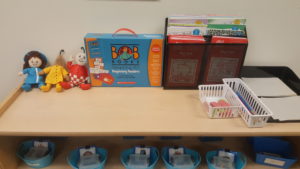 The BOB Books Reading Kit 1 comes in a self contained, easy to carry box.  It's contents of the box includes an 8 page Parent Guide, an 80 page child's workbook with stickers, a beginning set of 12 Bob Books, 2 full length storybooks, 40 flashcards…this kit is full of everything you need to ensure your child is successful in reading!
The contents of Reading Kit 1:
-The Parent Guide: Comes with tips and lessons that you can do with your child at home or at school.  It comes with hints for teaching a child to read, additional resources and an achievement log.
-The Workbook: Comes with 6 workbook pages for each of the BOB Books, stickers, a checklist, and a certificate of completion.
-Beginning set of 12 BOB Books: Comes with 12 books; Mat, Sam, Dot, Mac, Dot and Mit, Dot and the Dog,Jig and Mag, Muff and Ruff, 10 Cut-Ups, Peg and Ted, Lad and the Fat Cat, and The Vet
-2 full length storybooks: Comes with 2, Level1 Readers that are geared towards sight words, words to sound out, and simple sentences.They are Grade 1 readers, appealing to Pre-k to 1st graders.
-40 flashcards: Comes with 40 double-sided flashcards with a picture from the books on one side, and the word on the other.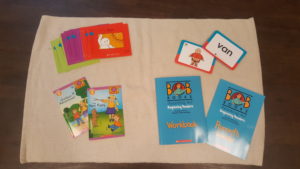 In order to be able to reuse the workbook pages for multiple children, I decided to make a photocopy of the pages of the workbook that correspond to the first BOB Book, Mat.  After a child in my class read the book, she then began on the workbook pages.  She really enjoyed being able to reference the book while completing her workbook pages.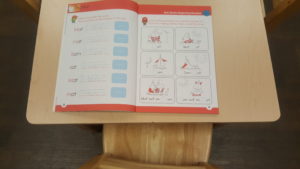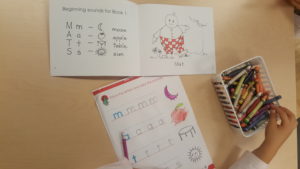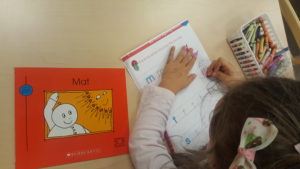 The workbook and the characters were a HUGE hit!! I had multiple children in my class asking to do this work and excited to be able to explore the reading kit!  I love that each book has its own set of workbook pages, and that it is fun and inviting for the children.  This Reading Kit is ideal for any homeschool curriculum or classroom curriculum where you have beginning readers.  The kit is complete with everything you need to teach reading to your young child.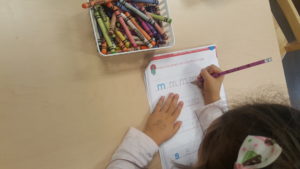 I can only hope that BOB Book keeps making these amazing Reading Kits, and the wonderful character dolls we have all grown to love and adore! Bravo, BOB Books, well done with the Reading Kits!
Interested in learning more about how I introduce reading into my classroom with BOB Books? Click here.
Interested in reading about the BOB Books Sight Words Boxed sets? Click here.
Anitra
Save
Save
Save
Save