[social_warfare]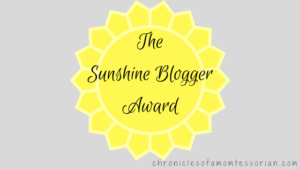 So, since I've started blogging seven months ago, I've been nominated for two Leibster Awards and now I have been nominated for The Sunshine Blogger Award!  Being nominated is such an honor, especially since your nominations come from other bloggers.  It is a great feeling when another blogger finds interest in your content and posts.
I am truly thankful to Sydny Cathey of The Cathey House for the nomination.  The Cathey House is a great blog where Sydny shares her life as a newly stay at home mom to a little one, and her passion for reading, video games, cross stitching, education, DIY, and traveling.  Check out her blog when you get a chance, you will not be disappointed!
Now on to  Te Sunshine Blogger Award…
The Rules:
Thank the blogger who nominated you in the blog post and link back to their blog.
Answer the 11 questions the blogger asks you (see bottom of post)
Nominate 11 new blogs to receive the award and write them 11 new questions to answer.
List the rules and display The Sunshine Blogger Award logo in your post and/or on your blog.
Q & A from my nomination…
What's your least favorite thing about blogging?
I would say that my least favorite thing about blogging is making sure that I find topics to post about that not just I find interesting and relevant, but that others find interesting and relevant.  I don't want my readers to be bored on a topic I write about.
Do you have any tattoos? If so, how many?
I have two tattoos.  They are both on my back.  On my right shoulder, I have two butterflies.  Right on the upper part of my shoulders in the middle I have an angel holding two babies.
What time of year is your favorite?
I would have to say that I like the holidays.  I like cooking good food for my family, and relaxing and enjoying spending time with my family.
Did you have a favorite toy as a child?
I did have a favorite toy as a child.  It was a baby doll that I literally took everywhere with me, no matter what!
What's your favorite alcholic drink?
Alcohol…yes, please! I work with preschool aged kids all day, every day!!! I love any cocktail that contains vodka!
Whose your celebrity crush?
My celebrity crush is David Beckham.  For those who don't know who he is, he is a professional soccer player from England.  Google him right now, you'll thank me!!!!!
If you could change your name, what name would you give yourself?
I actually like my name, which is Anitra.  I think that is just unique enough, kinda like how I am!  I think it suits me well.  Except when people call me Anita, other than that, I like my name.
What are you most afraid of?
I am most afraid of failing and not being as successful as I know that I can be.  I don't want to be a disappointment to my daughters.
What is a skill you'd like to learn and why?
A skill that I'd like to learn is
Would you choose $250k in spending money or a dream home that was paid off?
I would probably choose the $250k in spending money.  That's enough to pay off my current house and still be able to buy lots of things!
Are you always early or late?
I am always early.  I really feel horrible if I'm late.
My 11 nominations are…drumroll, please!…
Your questions..
1.When do you find time to blog?
2.What was the inspiration for the name of your blog?
3. What's your favorite quote?
4.What is the best advice you've ever received?
5. Which do you prefer, coffee or tea?
6.Are you a morning person or a night person?
7. If you have kids, how many do you have and what are their ages?
8.What is your biggest pet peeve?
9.What is your favorite movie?
10.Who do you look up to?
11.Where were you born?
Congrats to the nominees!!! I can't wait to see your answers, and please share the love of The Sunshine Blogger Award!
Please make sure to tag me on Instagram and Twitter once you have accepted the award and have your blog post up!
Again, thank you Sydny for nominating me, I really appreciate and feel the love! 🙂
Anitra