It is definitely that time of year again…the start of another school year.  The time of year when children start to leave my classroom, and I start to get new children…It is a sad time of the year to see many of the children leave who have been with me for two, sometimes three years; but it is also an exciting time where you are anxious to get to know and love your new little friends!  It may sound cheesy, but I hold a special place in my heart for the children that have been in my classroom over the years.  I keep in contact with quite a few of their parents as well; as they have become my friends and I ask about their children often!
Parents choose to put their children in preschool for many reasons.  The reasons can range anywhere from building their social skills, to develop growth in language skills, to promoting growth in maturity.  The same came be said for why parents choose Montessori as well; and for more specific reasons.  The reasons why parents choose to put their children in a Montessori school are because it is an environment that promotes self care, care for others, independence, and communication skills.  The Montessori environment is a structured, yet loving place where children enjoy being a part of a community, take pride in their independence, and are involved in their learning.
It is the job of the Montessori teacher to teach, guide, and encourage the growth in the whole child.  The whole child is independent, is a natural learner, and is willing to take on care of themselves, the environment, and their peers.  Although the Montessori teacher is there to assist in developing the growth of the whole child, the parents are just as important to this process.  There are things that parents can do to prepare their children for entry into a Montessori classroom.
I get it…it's hard for parents to come to terms with the children may no longer be "babies" and that they don't want them to grow up so fast…Trust me, I know how it feels from both sides of the fence; as a mother and as a teacher.  But  PLEASE listen to me when I say, that you are doing your children a HUGE disservice when you do everything for them, linger around the classroom, call the school all day long, and hide out in the parking lot watching to make sure your child is doing ok!!!!! Yes, this actually happens…All. The. Time.  Please understand that if you trusted the school and teachers enough to enroll your child, please trust us enough to let us do the job you are paying us for…Ok, sorry. Rant over.  Some of the tips may seem obvious, while others you may have not even thought of.
Here are 5 Tips for Preparing Your Child for Preschool

1. Please DON'T stay too long at drop off time.
I understand that you may be nervous if it is your child's first school experience.  But staying too long makes your child get comfortable with the idea that you will be staying with them all day.  It also makes it difficult for them to want to go explore the classroom and engage with the other children.
DO practice the motto, "short drop off, long pick up".  Make pick up time a longer, engaging experience.  Trust me, most times when it's time to go home, they don't want to go!  It happens all the time.
2. Please DON'T leave without saying goodbye.
Of course it is important to practice the motto, "short drop off, long pick up:.  But never just leave without saying goodbye to your child.  It may cause feelings of abandonment, and make them feel as if the school and classroom are not a safe place.  Even if they are crying and sad, still say goodbye to them and leave promptly.
DO give them a hug and even a kiss goodbye, and encourage them to have a fun or good day while at school.  You can also add that you will be back as soon as you're done at work.
3. Please DON'T say goodbye; leave the classroom or playground, and them come back.
This is a very common thing parents do.  It is very disturbing to your child, especially if they have calmed down and are otherwise distracted.  To see you come back, gives them the impression that they are leaving, and once you leave out again, the entire episode starts again…only this time it's WORSE!
DO remember, once you say goodbye and leave, you mustn't return…under no circumstances.   It is very hard; not only on your child; but on the teachers who have to find a way to calm and comfort your child.
**Number 4 is especially important in a Montessori environment.**
4. Please DON'T enable your child by doing everything for them.

By this, I am referring to self care activities that they can do themselves.  From an early age, please remember that your child is more capable of doing things for themselves than you give them credit for.  All they need is the opportunity.  I have parents ask me all the time, "They pour their own water and milk".  The answer is yes.  If i didn't teach them from the first day they start, all I would do all day is pour water and milk! I wouldn't have a chance to do anything else.  It is not going to hurt them if they are able to do things themselves.
Making her own snack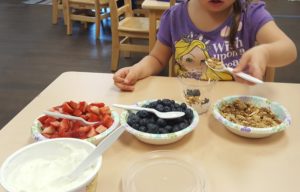 DO provide opportunities for your child to care for themselves.  A few examples are to have them dress themselves, help clean up after they eat, pick out their clothes, feed themselves, serve themselves snack, or let them help you cook.  You'd be amazed at what your child is capable of, if they are given the chance!  Some of these activities can be introduced as early as two years old.
Helping to make fresh bread
Putting on shoes independently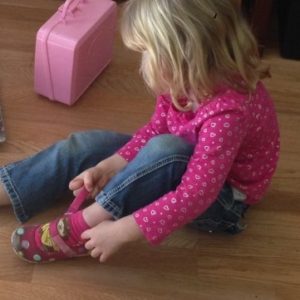 5. Please DON'T discuss starting school with your child too much before they actually start.
I have gotten feedback over the years from many parents that informed me that the month before their child started school they were excited to go.  But by the time it was their start date, they would either push back the start date or not enroll at all.  I found that talking about starting school too much actually causes anxiety and has the opposite effect on a child, making them not want to experience going to school.
DO discuss with your child that they will be starting school.  Do so often, but not so often that they lose interest in wanting to go.  Casually mention it here and there to them, and if they start to develop signs of anxiety or nervousness, end the conversation.  You can always try talking to them about it at another time.
Following these tips can make your child's transition (and yours), to a Montessori school an easier one.  By following a few; or all of these tips may even cause a teacher thank you!
So, THANK YOU!!!
Anitra
Save
Save
Save
Save
Save
Save