[social_warfare]
This post may contain affiliate links.  I may receive a small commission if you click on and purchase products.  Please see the Disclosure Policy for more information.
The latest, newest, and most popular thing nowadays are subscriptions.  There are subscriptions and subscription boxes for anything and everyone in your family.  Clothing, razors for shaving, shoes, toys, educational homeschool items…you name it, there is a subscription for it!  Obviously subscriptions make life for a busy family EXTREMELY easy; you can pick what you want or need online, and it gets delivered right to your door!  it doesn't get any easier or convenient than that, that's for sure!
With all the buzz and hype surrounding subscriptions, I decided to give you my list of top 4 subscriptions for kids.  Each subscription varies in price, products, ages, and frequency of the subscription.  A few of these I remember having a subscription to when I was younger, and I absolutely loved them!  I subscribed to a few of these for my daughters when they were in elementary and middle school as well, and they still talk about how much they loved getting "mail" and having their own products delivered to our house that belonged to them.
Subscriptions are great for everyone; and depending on what topics interest your child or children, you are surely to find one or more of these subscriptions that your child will fall in love with!
The 4 BEST kids subscriptions you need to sign up for RIGHT NOW!

Little Passports has four different monthly subscriptions ranging in ages from three to twelve years old. Little Passports is an award winning subscription that allows children to learn about the world through monthly subscriptions and activities.
The Little Passports Early Explorers
Ages 3 to  5
The characters take you on a worldwide adventure, perfect for the younger learner!
The subscription comes with:
high quality stickers
trading cards
flashlight game
photo postcard
letter from characters Max and Mia
fun souvenirs
activity booklet
Skills taught:
Geography
Following directions
Color recognition
Fine motor control
The Little Passports World Edition
Ages 6 to 10
The characters take you on a trip around the globe and teach your children about world cultures!
The subscription comes with:
high quality stickers
activity sheets
photo postcard
letter from characters Sam and Sophia
fun souvenirs
bonus recipes and crafts
online games and activities
Skills taught:
Geography
Country recognition
Imagination
Empathy and Memory
The Little Passports USA Edition
Ages 7-12
The characters take you on trip to explore and visit the 50 states, famous landmarks, and state history!
The subscription comes with:
32 page state journal
educational stories
hands-on activities
tasty recipes
fun facts
3D landmark models
online photo album and more
Skills taught:
State recognition
Creative thinking
Reasoning and logic
Focus and attention
The Little Passports Science Expeditions
Ages 9+
Help the characters solve scientific mysteries while they collaborate with international scientists!
The subscription comes with:
achievement badges
8 page experiment guide
16 page comic book with glossary and activities
lab notebook prompts
experiment kits
bonus online video
Skills taught:
Experimentation
Problem-solving
Observation
Note taking
Little Passports also has a huge selection of individual products as well as the subscriptions.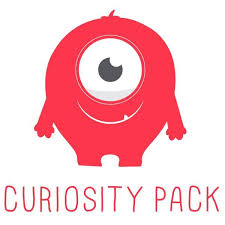 Curiosity Pack is a monthly subscription that inspires a love of learning through activities that teaches children to be caring and empathetic while learning letters, numbers, science, and art; just to name a few.  They have two subscription options; and a Personalized Learning Plan, perfect for home school, depending on what your needs are.
Ages 3 to 5
Teaches the academic and social skills children need for Kindergarten.
The subscription comes with:
Curiosity pack or a book pack
Curiosity packs include: the Letters pack, the Numbers pack, and the Feelings pack
Each pack includes parent education, ready to use activities and information about child development
Skills taught:
real world learning situations with numbers and letters
feel more comfortable about a new environment
develop empathy
The Change Makers Club is an 8 week subscription that teaches children to be empowered to change the world for the better!
Ages (0-5) Know Your Power
Ages (6-8) Connect & Amplify
Ages 9+ Be the Change
The subscription comes with:
Weekly email plans
Downloadable activities to print and complete
Scripts and questions
Profiles of other kid heroes that have mad a difference
Skills taught:
Explore and learn from your community
Help your child identify themselves as a helper
Articulate and communicate values

Highlights Magazines have been a childhood favorite for more than 70 years!  Their subscriptions magazines provide opportunities to learn through games, puzzles, rhymes and more!
Ages 2 to 6
The monthly High Five Magazine is geared toward the younger, inquisitive learner.
The subscription includes:
Easy recipes and crafts
Action rhymes that encourage exercising
Stories from other parts of the world and cultures
Hidden pictures
Skills taught:
Boosts thinking and problem solving
Includes basic concepts of science, nature and art
Teaches word recognition
Introduces math concepts
Promotes values and creativity
Ages 6 to 12
The monthly Highlights Magazine is designed for school aged children to build upon and expand on the skills they learn while in school.
The subscription includes:
Hidden pictures
Stories from other parts of the world and cultures to expand empathy
BrainPlay and other features to let them know their opinion is valued
Crafts and science experiments
Skills taught:
Attention to detail and concentration
Fascinating science and nature topics
A chance to see their own creative work in print
Critical thinking and creativity
Highlight has many other products as well, such as clubs, apps, toys, and books.  Check out all they have to offer here.
Zoobooks Magazines teaches children about all things related to animals.  They have three different subscriptions, that are great for child up to twelve years old!
Ages 0-2
The subscription comes with:
Lift the flap and peek-a-boo features
Beautiful photography
Durable toddler tough pages
Skills taught:
Mind building concepts like colors, shapes and sizes
Ideas for nature fun for the whole family
Ages 3 to 6
The subscription comes with:
Amazing photographs
Fun cartoon characters
Fascinating illustrations
Skills taught:
Games, puzzles and activities in the Fun Pages
Access to online learning
Loads of ideas for extended learning opportunities
Ages 6 to 12
The subscription comes with:
Amazing wildlife photography
Games and puzzles
Online access to Secret Jungle Club
Skills taught:
Learn about animal habitats
Social life of animals
Conservation
Encourages kids to be life long learners
These subscriptions provide variety for all ages and all stages of development.  Any one of these would be a great addition to any classroom, home school curriculum, or as a beginning to your child's life long learning adventure!
Happy subscribing, and I hope you find a subscription that fits your child's educational needs!
Anitra