[social_warfare]
This post may contain affiliate links.  Please see disclosure policy for more information.
It's that time of year where shopping for gifts is in full spring!  I personally always LOVED when my daughters would give me handmade gifts for holidays; these are the ones that I still have and hold dear to my heart.  When children make things, they feel a sense of pride, accomplishment, and joy knowing that they created something so special for someone they love!
With that being said…Are you looking for an easy child made craft to give as a Christmas gift?  This hanging photo tree is fun and would make a great gift for parents in your classroom, grandparents, or other relatives!  I am actually making these this year in my classroom, and I am getting quite a few compliments on them from the other teachers in the school!  It is fairly easy and inexpensive, but it does require an adult's aid. Hope you like our parent gifts for this year!
Christmas Hanging Photo Tree Craft
Materials/supplies needed:
-Beads (either Fused beads or Pony beads)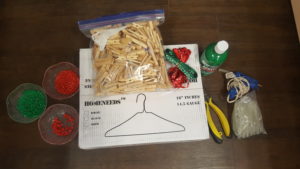 Step 1:
Cut the wire hanger to your desired length with wire cutters.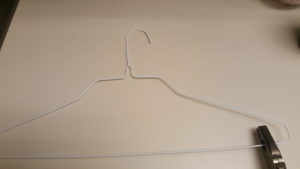 Step 2:
Determine how many clothespins you would like your photo hanger tree to have, and paint them with acrylic paint.  I decided that six clothespins would be efficient, and I chose to paint them green.  Make sure to paint all sides of the clothespins.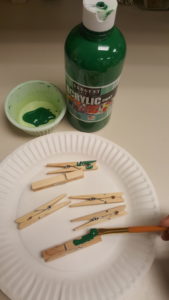 Step 3:
Decide what kind of beads you would like on your photo hanging tree.  Put the beads on the wire base.  I decided to use the Fused Beads in green and red.  For the beads, I used fourteen of them, in alternating colors.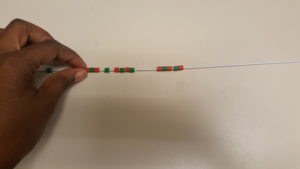 Step 4:
Put your freshly painted clothespins on your wire base.  Place each clothespin in between every two beads.  I also left two on each end to complete the look.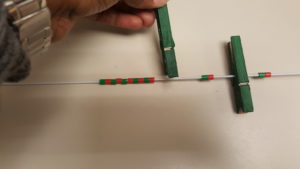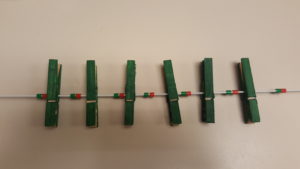 Step 5:
Using the hot glue gun, glue a fused bead onto both ends of the wire base.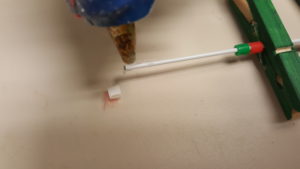 Step 6:
Using the hot glue gun, glue the end of a pre-cut piece of ribbon onto the fused beads on the ends of the wire base.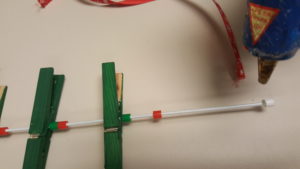 Step 7:
Your hanging photo tree is complete!  Just add pictures and hang!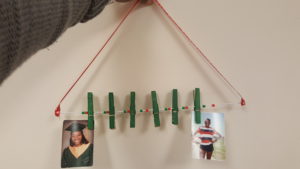 This was a really fun activity that the kids made.  The only part that I would suggest an adult do is cutting the wire hangers with the wire cutter and any part of the project using a glue gun.  Other than that, children can do the rest!  We will be wrapping these up for the parents and giving them for presents in a few weeks!  I'm happy with how they came out, and they didn't take long at all to do.  I actually did 21 of these, and it didn't take long at all!  The acrylic paint dries fairly quickly, so it made it easy to paint all sides in one day.
I hope you enjoy our craft, and hopefully you will make your own hanging photo tree!
Anitra